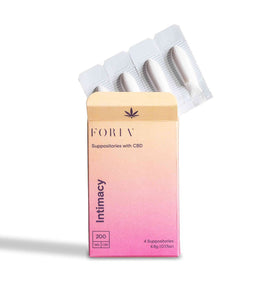 Intimacy Suppositories with CBD
Regular price $20.00 Sale
Love penetration? Go deeper with our all-natural suppositories, which deliver 50mg of organic broad-spectrum CBD when used vaginally or rectally. Enhance arousal, ease discomfort, and relieve tension.
4 suppositories, 50mg active CBD each
Ingredients
Organic fair-trade cocoa butter + organically-grown hemp extract.

Our CBD comes from USDA organic-certified, regeneratively-grown hemp.

Free of alcohol, petroleum-based ingredients, phthalates, glycerin, parabens and dyes.

Never tested on animals.

Vegan & gluten-free.
How to Use
Pre-Sex: To enhance arousal and ease discomfort insert vaginally or anally 30-60 minutes before sexual activity, allowing 15 minutes for suppository to melt and absorb.

Post-Sex: To soothe soreness or muscle fatigue, insert after sexual activity.

Oral-friendly & safe to ingest.
Cautions
NOT FOR USE WITH LATEX OR POLY-ISOPRENE. Intimacy Suppositories are oil-based, so any condoms, diaphragms or toys must be oil-safe materials.

If you are pregnant or take pharmaceutical drugs, please consult your physician before use.

Keep out of reach of children and pets.

Allergens: avoid usage if you are allergic to chocolate or hemp.