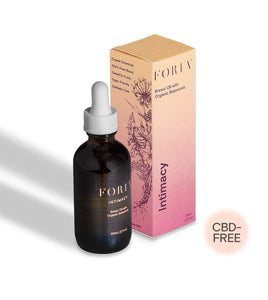 Intimacy Breast Oil with Organic Botanicals
Regular price $38.00 Sale
How to Use
Breast oil can be used any time of day, and as frequently as you like. It's easy to fold into your daily self-care routine - especially nourishing after a shower or a bath.
1. Apply: Put a dropper full or more into your hands or directly onto your chest
2. Massage: Gently massage breasts in a circular motion.
3. Repeat: Repeat as needed
This product is a wonderful self-care tool for paying attention to your own breast tissue as it changes over time.
It is designed for personal use and is not intended for oral use.
Ingredients & Sustainability
We take "clean" to a whole new level. Not only does Breast Oil use 100% all-natural and organic botanicals carefully selected to support breast health, but there are no fragrances, additives, or synthetic anything.
Organic MCT Coconut Oil with Organic Botanical Infusions (Calendula, Yarrow, Violet Leaf, Dandelion Leaf), Organic Castor Oil, Organic Essential Oil Blend (Pine, Orange, Lavender, Frankincense). CBD-free
In addition, our MCT is exclusively from sustainably-farmed organic coconuts.
We use only low-impact, eco-conscious, recyclable packaging with minimal plastic.