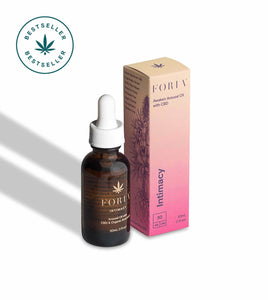 Awaken Arousal Oil with CBD
Regular price $48.00 Sale
Meet our bestselling Intimacy formula. This unique topical works with your body to enhance pleasure, ease discomfort, and help make great sex even better with a blend of broad-spectrum CBD and organic botanicals. Awaken was designed to support sexual wellness for women and people with vulvas – solo or with a partner. Approximately 30+ uses per bottle.
Why CBD and Sex?
Does CBD belong in your bedroom? The short answer is absolutely – and here's why.

Used topically, CBD promotes increased bloodflow – a vital part of arousal and sexual pleasure.

CBD helps relax muscles & ease tension, supporting comfort where it counts.

Painful sex is more common than you'd think. CBD has been shown to help manage pain – gently and naturally.

Want to learn more? Check out this blog!
Ingredients
Organic MCT Coconut Oil. Whole-Plant Infusions (Organically Grown Hemp, Organically Grown Kava Root, Organic Cinnamon, Organic Ginger, Organic Vanilla)Organic Essential Oils (Cardamom, Peppermint) Cacao AbsoluteOur CBD comes from USDA organic-certified, regeneratively-grown hemp.

Vegan & gluten-free.

Free of alcohol, petroleum-based ingredients, phthalates, glycerin, parabens and dyes.

Never tested on animals.
How to Use
Add as much as a full dropper to the clitoris, inner labia, and inside the vagina.

Gently massage & allow the botanicals to absorb and work their magic.

Oral-friendly & safe to ingest.